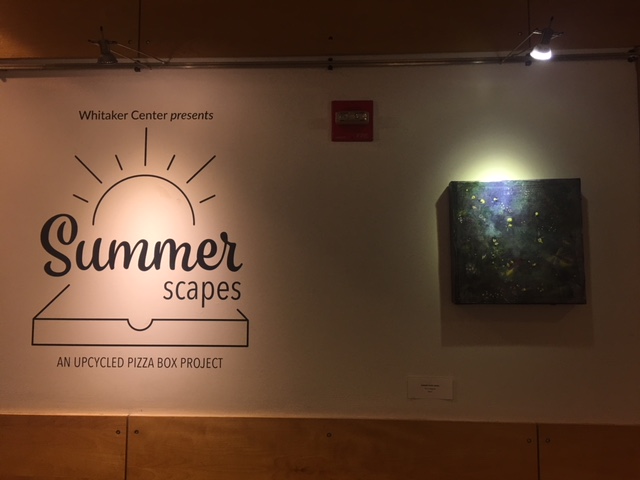 Recently, I was invited to be a judge of an art competition presented by the Whitaker Center in Harrisburg. It was their "Summerscapes Upcycled Pizza Box Contest," in which artists of all ages used repurposed pizza boxes as their canvases to express their favorite summer moments. Many of the artists used "recycled" materials to create outdoor scenes to show what the they were paying attention to recently.
Because that is what artists do - they notice something — it could be a shape, a color, an idea, a moment, a person—and they pay attention to it. When they make their painting (or photograph, sculpture, play, story, dance, or music) they are asking us to pay attention to what they noticed as well.
Five months ago, I took the position of Director of Development for PennFuture. Before that, much of my career was in the arts. What I've been noticing during the past five months is how much intersection there is between these two paths. There are a lot of artists of all types who are creating works that ask us to pay attention to the environment and climate change.
I should have noticed this before, but isn't that what most of us say about climate change? My wife is a photographer and has been creating digital compositions with climate change themes for a few years now. I knew that she was paying attention to the issue, but were other artists?
To find my answer, I first visited the "Artists and Climate Change" website. It was created to encourage artists to create art, plays, books, operas, and more that go beyond the scientific facts of climate and engage people in the reality of its impact on our lives. Sometimes, the issue of climate change feels so big that it almost seems impossible to act. By encouraging and connecting individual artists to address this, the hope is that this huge issue can be broken down into "small personal components." The quantity and variety of work being shared is inspiring. I have been personally moved by the work of "renewable energy photographer" Joan Sullivan.
It turns out that many artists are paying attention and trying to do something. One of the most effective groups has been the Land Art Generator Initiative, an international collective based in Pittsburgh, that for almost ten years has been connecting artists, architects, engineers, scientists, and local communities to create public art that somehow generates sustainable energy. A great example of this is Pittsburgh's "Renaissance Gate," which was developed by 20 children—ranging in age from 8 to 17—from the Homewood neighborhood during a 2015 LAG summer camp. The solar artwork now provides energy to the neighborhood they live in.
This past summer, the artist Mel Chin created a "mixed reality" installation which allowed visitors in Times Square to "experience" what the tourist spot will look like when it becomes completely submerged by rising sea levels due to climate change. Looking up from "under water" through special Virtual Reality head-sets, users could see everything going on around them in the "real world" and also see the bottoms of numerous boats and ships floating 26 feet above their heads. The work is no longer in Times Square, but can be viewed through an app.
Many of the temporary sculptures and installations created for this year's recent Burning Man festival in the Nevada dessert had an environmental theme as well. Perhaps the most poignant was a 36 foot tall sculpture of a polar bear made by Don Kennell & Lisa Adler out of over 100 repurposed car hoods. They will be touring this "icon for global warming" across the country in the coming months.
Not all work though is just about paying attention or generating energy. Artists are also taking action to prevent climate change. Miami Beach, where sea level rise is already a reality, launched a new artist in residence program last April at the Art Center of South Florida to spend a year exploring climate change - and trying to see what artists can do to prevent it. Artist and South Florida native Misael Soto was selected to spend the year meeting with city officials to learn and discover what artists can do to have an actual impact on the environment.
Can artists truly prevent climate change?
I don't know, but at least some are trying. As Jacquelyn Bonomo, PennFuture President and CEO, writes in her recent blog, with the scale of the climate problem we face, what we are doing right now is simply not enough. More must be done, and we all must take responsibility for doing something.
Dr. Michael Mann, Distinguished Professor of Atmospheric Science at Penn State and PennFuture Board Member tweets: "Follow your heart. Climate change and environmental sustainability impacts every sector of civilization and every facet of our lives. Do what you're good at and enjoy doing and finding a way to change the world for the better while you're doing it."
Artists are doing it - are you?