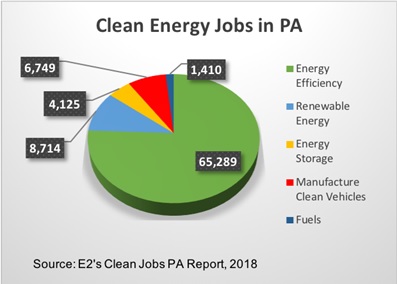 Over 86,000 Pennsylvanians work in clean energy jobs,
according to a report released June 19
, by the national nonpartisan business group
E2
and partner organizations — Green Building Alliance, Keystone Energy Efficiency Alliance, Sustainable Business Network of Greater Philadelphia, and Sustainable Pittsburgh.
The exact number of jobs is 86,285, and includes jobs in renewable energy (solar and wind), energy efficiency, clean vehicles, battery storage, advanced biofuels, low-impact hydro, and other areas. The surge in clean energy jobs is not confined to one or two regions of the state; there are residents in every county working in these fields.
The report also shows that Pennsylvania ranks 11th among the 50 states and the District of Columbia in the number of clean energy jobs. Sounds pretty good, right? Well, not exactly.
Pennsylvania is the 5th largest state in terms of population according to the U.S. Census Bureau, yet ranks 11th in clean energy jobs.
In contrast, Massachusetts, which has about half the population of Pennsylvania (15th overall), has the 7th highest total of clean energy jobs. Virginia, which ranks 12th in population, has the 10th most clean energy jobs. (
Click here to view E2's national report.
)
These statistics suggest that Pennsylvania can do better.
The private sector is the engine of job growth, but there is much state government can and must do to rev up this engine.
The PA Common Conservation Agenda, a blueprint for environmental action developed by PennFuture
and 25 other environmental groups across Pennsylvania – including three that helped produce the E2 jobs report, Green Building Alliance, Sustainable Business Network of Greater Philadelphia, and Sustainable Pittsburgh – contains a number practical, fiscally responsible steps that can be enacted by whoever occupies the governor's office after the 2018 election, simply using his executive authority.
Among the recommendations in the agenda pertaining to creating more clean energy jobs:
Invest in workforce training programs that provide displaced workers and new workforce entrants with skills in clean technology areas, including energy efficiency, renewable energy, and clean transportation.
Grow the state's green business sector by participating in recruitment trips to the top companies around the country to advocate for expansion or relocation to the Commonwealth.
Instruct the Department of Community and Economic Development's Manufacturing PA initiative to focus on workforce development and job opportunities in clean energy manufacturing.
Expand the Department of Labor and Industry's Apprenticeship and Training Office to focus on clean energy trades.
Develop an in-depth economic plan in concert with strong clean energy policies that includes opportunities for displaced workers, openings for a diverse workforce, considerations for rural and vulnerable communities, and innovative workforce investments.
Offer active public support and leadership to help pass the Congressional RECLAIM Act, a bipartisan bill, which would allocate funds to reclamation and restoration of land and water resources adversely affected by coal mining, providing Pennsylvania with $67 million annually for five years.
Additionally, hundreds of millions of dollars in Pennsylvania Infrastructure Investment Authority funding are available to invest in the Commonwealth's clean water infrastructure. With our water sector facing an aging workforce, leadership from the governor's office could help attract job-seekers, and support hiring and recruiting the next generation of clean water professionals.
The PA Common Conservation Agenda
represents the best thinking of many of the state's top environmental organizations, when it comes to strengthening the Commonwealth's 21st-century workforce through green jobs; safeguarding our water, air, land, and wildlife; and protecting the health and quality of life of our communities. But it takes more than great ideas to generate action; it's going to take a groundswell of support from people across the state. That's why PennFuture is backing
Green in '18
, a grassroots movement of Pennsylvanians speaking out for the environment and demanding action.
Green in '18
is primarily focused on making sure environmental issues receive the attention they deserve from the candidates vying to be Pennsylvania's next governor. I encourage you to add your voice to this growing movement. Visit www.greenin18.org to learn what you can do to help; then sign up to get involved. Through the concerted efforts of Green in '18 supporters, the environment will be front and center on the campaign trail, which will, in turn, lead to the action we are seeking.