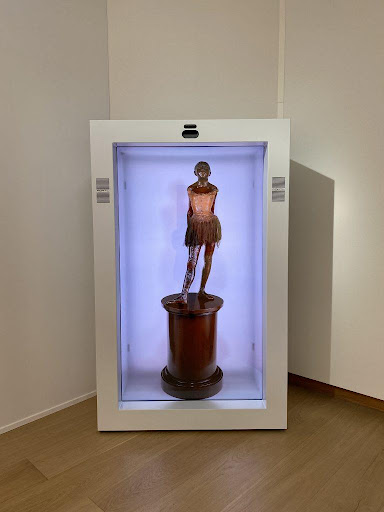 Photo Credit: A hologram of Edgar Degas's Petite danseuse de quatorze ans (1927), previously on view at Christie's San Francisco and Hong Kong branches. Courtesy of Christie's.
More than 25 years ago I argued in my Master's thesis, for Art Education at Penn State, that art museums should create virtual museums online to increase their accessibility and improve their educational outreach. If I was to write that thesis today it would be somewhat different. First off, I probably wouldn't have to include a chapter on what the "World Wide Web" is or how a hyperlink works. More importantly though, I would devote much of the thesis to how art museums can embrace virtual technology to reduce their carbon footprint.
It's hard to imagine, but back in the mid-nineties there was actually a lot of resistance in the art world to even posting digital photographs of works from their collections online. The concern, for some, was that when an original work of art is "mechanically" reproduced it becomes inferior to the original, destroying what critic Walter Benjamin called its "aura" which diminishes the viewers experience of both the original and the reproduction. Others were worried that the dollar value of original works would be compromised if viewers could "steal" (or copy and save) images. Given the ridiculous growth of the global art market since, currently valued at $65.1 billion dollars annually, I think the industry is doing just fine.
I thought back to my thesis while reading an article about how the auction house Christie's has created an incredibly realistic hologram of a fragile Degas ballerina sculpture, valued at $20 million, that they are sending on a virtual world tour. I haven't seen the actual hologram in person but the photograph of it is indistinguishable from a photograph of the original work. It's an amazing use of the technology created by a company called Proto to beam high resolution holograms of actual people around the world. Christie's has chosen to use the tech primarily to reduce shipping and insurance costs, but also, they say, because it reduces their carbon footprint. This is a concern that unfortunately few people in the art world had back in the nineties, when I was in grad school, but is now on the forefront of everyone's mind.
Since I've been with PennFuture I've written a number of blogs about how "EcoArtists" are creating works that use the environment as a subject matter, as a medium, and sometimes as a result of their work. Most recently I hosted an online panel discussion with a number of artists involved in creating the book EcoArt in Action. For this article I want to focus specifically on how the exhibitors of art - museums, galleries, and auction houses such as Christie's - are addressing their role in climate change.
Climate change, and its effects, are certainly on the radar of museum professionals today. The Pérez Art Museum, recently built on the bay in Miami and the Whitney Museum of American Art's Renzo Piano, located next to the Hudson River, were both designed to withstand predicted flooding caused by climate change. Last year the New Orleans Museum of Art had to close to the public for a few weeks because of Hurricane Ida and get their power from emergency generators to keep the steady temperature and humidity needed to protect their collection. Fortunately, because of lessons learned from Hurricane Katrina, they had an extreme weather event plan in place. Other museums have taken notice. Today there is even a regular conference for museum professionals on protecting their collections, and buildings, from increased flooding called Keeping History Above Water.
But what can galleries and museums do to not just protect themselves but to actually reduce their carbon footprint?
Some museums are making significant efforts to be more sustainable, such as getting Leadership in Energy and environmental Design (LEED) certification for their buildings. LEED provides a framework for healthy, highly efficient, and cost-saving green buildings. In Pennsylvania both the Erie Art Museum and the Barnes Foundation, among others, are LEED certified. Here is a list of the top 17 sustainable museums in the world, including one of my favorites, the Grand Rapids Art Museum in Michigan.
These architectural efforts in building design are extremely important but they don't reduce the amount of energy used to transport art – which is where the art world has the greatest impact on the environment. The costs for packaging and shipping art (think lots of bubble wrap and crates, cargo ships and airplanes, security and couriers, plus insurance) for a "blockbuster" touring exhibition to museums around the globe can be extraordinary. Individual museums will often pay anywhere from around a hundred thousand to a few million just for the transportation of paintings. Transporting sculptures weighing thousands of pounds can cost even more. The trend of museums offering "immersive" experiences is certainly a result of this consideration – it is much less costly (for the museum and the environment) to project images of Van Gogh on a gallery wall than it is to ship all those artworks to multiple museums. And given their popularity, audiences are apparently okay with not seeing the original if they can walk through a reproduction.
Perhaps the worst climate offenders in the art world are the huge international fairs, such as Art Basel Miami, the Frieze Art Fair in London and New York, and Art Dubai. When you take into account the climate footprint of building temporary exhibition spaces, with energy sucking lighting and climate control, and the thousands of international jet-setters flying in and out to these events, the environmental impact can be devastating. Acknowledging the carbon footprint of the hundreds of art fairs held each year is something the art world has just started to get comfortable in talking about.
Of course exhibitors can't reduce their footprint unless they know how big it is. One group taking the lead on helping the art world do this is the Gallery Climate Coalition. Their goal is to facilitate the decarbonization of the visual art sector and promote zero-waste practices. This international collective of hundreds of art professionals has a plan to reduce the carbon emissions from galleries, museums, and fairs by at least 50% by 2030 (in line with the Paris Agreement). One way they do this is by providing a free online carbon calculator to determine the footprint of transporting artworks to exhibits, fairs, and festivals. Last November they hosted, online, the conference "Decarbonizing the Art World" and published their "Decarbonization Action Plan". Most of their suggested actions recognize that the art world is not going to give up the physical object anytime soon and therefore the tips are practical, physical, ways to reduce waste and energy consumption such as using LED lighting, reusable crates, and recycling packing material. They also promote decarbonization through innovation, such as utilizing virtual exhibits.
Though the early concerns from the art world about jeopardizing an artwork's "aura" have not prevented museums from being online, there were still some who resisted creating virtual exhibitions for a number of years because the poor quality of the technology compromised the visitor's experience. As the technology improved this became less of an issue, yet many museums still were reluctant to embrace virtual exhibitions because of a fear it would reduce revenue from in-person visits. What has been encouraging to see during the past two years is that because of Covid restrictions many museums and galleries, who couldn't open their physical doors, were "pushed" into having virtual versions of their physical exhibits to be able to continue to reach their audiences. A great example of this is "Our Blue Planet: Global Visions of Water" created by the Seattle Art Museum and featuring works from the museum's permanent collection or on loan from local collectors – minimizing transportation costs of the art.
Something many museums have recently realized was that these virtual exhibits allowed them to reach a far broader audience while reducing exhibition costs and their carbon footprint. In fact, so many arts institutions started to create virtual content during the past two years that Google launched Google Arts and Culture in partnership with them as a response. Here you can "visit" almost every major art museum in the world, including the Met, MoMA, and the Philadelphia Museum of Art, without having to get in a plane, train, or car.
Unfortunately the past few years have also seen one of the greatest upheavals in the world of virtual art with the popularity of cryptocurrency and Non-fungible Tokens (NFTs). When I first heard about these "digital markers" and how they could be used to identify the one "original" image in a world of digital copies I was certainly intrigued. For the first time, artists who work in the digital world could make truly unique images that were protected with this certification of authenticity. It sounded like a great idea. I'm not going to dwell on this too much here because I wanted this blog to focus on the positive changes the art world has been making regarding climate change. NFTs are not a part of it. Unfortunately, NFTs are a huge step backwards environmentally because they rely on "blockchains" and the ridiculous amount of energy required to run the computers creating them and cryptocurrency (a much better explanation of how this all works was written by my co-worker, Rob Altenburg). It's a shame that the amount of money associated with NFTs at this point is so great – literally billions during the past year - that many people are choosing to ignore their environmental impact. Someday there may be a way to sustainably create NFTs, but it is a long way away from today's technology.
Despite my serious concerns about NFTs I am greatly encouraged by the responsibility that museums and galleries are taking for their role in fighting climate change and reducing their carbon footprint. And I can't wait to see how this new hologram technology will be used by museums, galleries, and artists to show and create works all around the world without damaging the Earth. It is certainly not something I could have predicted some 25 years ago.