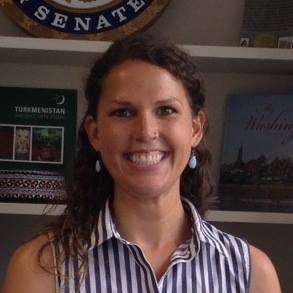 smith@pennfuture.org
267-838-9154
Lena serves as PennFuture's "Campaign Manager, Clean Water Advocacy." In this role, Lena leads a high-impact campaign around clean water issues, focusing on elevating green stormwater infrastructure as a key environmental issue among Philadelphia's municipal leaders and residents.
Before joining PennFuture, Lena was a Senior New Jersey Organizer and Policy Advocate with Food & Water Watch, where she organized communities to protect the right to public water in Atlantic City. She also successfully lobbied the New Jersey Senate and other state policy makers around a fracking waste ban, as well as renewable energy policies.
Previously, Lena worked as a Food Justice Organizer with the St. Louis Interfaith Committee on Latin America, a Community Development and Agriculture Cooperative Outreach Practitioner with The Runa Foundation in Peru, a Community Organizer with the Alliance for Building Capacity, and as an Agriculture Volunteer with Peace Corps, Paraguay.
Lena holds a M.S.W. in Social and Economic Development from Washington University in St. Louis, and a B.A. in Social Work and Spanish from Gordon College in Wenham, Massachusetts.
Lena is a transplant from St. Paul, MN to Philadelphia, where she has lived for over four years. She enjoys running in the Wissahickon, throwing pottery, reading in Clark Park, and remaining active in her West Philadelphia community. Lena has traveled to more than 10 countries on 5 continents, speaks three languages, and has hiked the Inca Trail twice!