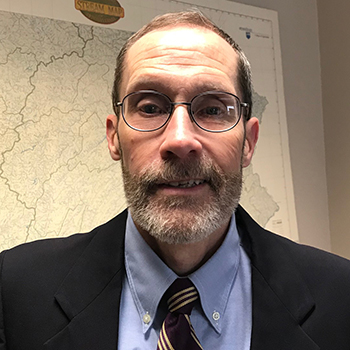 weist@pennfuture.org
717-214-7925

Kurt joined PennFuture on June 1, 1999. Since that time, he has been the lead attorney for a coalition of environmental and sporting organizations in a series of cases and administrative proceedings that have forced state and federal government officials to address significant deficiencies in Pennsylvania's "bonding" program for guaranteeing the reclamation of regulated coal mines. Those cases include PFSC v. Kempthorne, 497 F.3d 337 (3d Cir. 2007), in which the U.S. Court of Appeals for the Third Circuit sustained the coalition's challenges to two decisions of the federal Office of Surface Mining Reclamation and Enforcement.

Kurt represented a coalition of individuals and six fishing organizations in opposing the renewal of the wastewater discharge permit for the Pennsylvania Fish and Boat Commission's Big Spring Fish Culture Station in Cumberland County. The fish-rearing station was permanently closed in November 2001.

Kurt helped the Powell's Valley Conservation Association Inc. prevent the development of a 5,600-sow hog breeding operation near Carsonville in upper Dauphin County by successfully opposing the facility's nutrient management plan. He also served as co-counsel for the Capital Area Greenbelt Association and a Dauphin County taxpayer in a court action challenging the county's sale of public parkland to McDonald's Corporation for the construction of a fast food restaurant. That case resulted in a conservation easement in 2006 that permanently preserves a section of the Greenbelt.

On behalf of PennFuture and its members, Kurt convinced the Pennsylvania Environmental Hearing Board (EHB) to invalidate a permit issued by the Pennsylvania Department of Environmental Protection (DEP) in 2007 that would have authorized the dredging of 1.38 acres of an inlet to Harveys Lake in Luzerne County. He has twice (in 2005 and again in 2010) represented PennFuture, Mountain Watershed Association, and the Youghiogheny Riverkeeper in appeals to the EHB that resulted in the revocation of wastewater discharge permits DEP issued for the Potato Ridge Mine in Fayette County. He also was a lead attorney in an appeal filed in 2009 on behalf of PennFuture and the Friends of Dunkard Creek that resulted in DEP revoking a permit revision that would have authorized an expansion of the Shannopin Mine Dewatering Project to include the pumping of additional mine drainage into Dunkard Creek from Consolidation Coal Company's permitted Humphrey Mine.

Immediately before joining PennFuture, Kurt spent two years as a visiting assistant professor and director of the Environmental Law Clinic at the Widener University School of Law in Harrisburg, Pennsylvania. Before teaching at Widener, Kurt spent nine years as a litigation attorney with the Pennsylvania DEP in Harrisburg.

Kurt grew up in the Borough of Lewisburg in central Pennsylvania. He received his law degree from Yale Law School and graduated summa cum laude from Williams College, where he majored in history and economics.

Throws left; bats right.