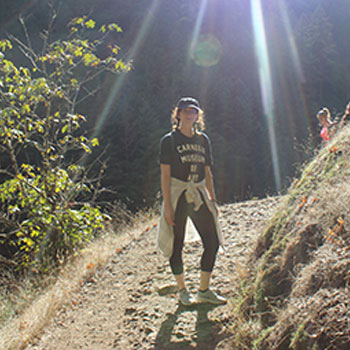 regan@pennfuture.org
412-456-2781

Annie focuses her work on promoting clean energy by planning PennFuture's signature public event, the annual Pittsburgh Solar Tour. She works with the Air Quality Collaborative to reduce air pollution in the region. Her other work focuses on community and coalition outreach around stormwater management, renewable energy, environmental enforcement and legal work, and sound environmental policy. Annie's competitive spirit comes out when she is spearheading PennFuture's efforts in Sustainable Pittsburgh's Green Workplace Challenge.

Prior to joining PennFuture, Annie was a policy intern for American Forests, the nation's oldest nonprofit conservation organization that advocates for the protection and expansion of forests. She was also a legislative intern for the office of Senator Robert Casey, Jr.

Annie earned an interdisciplinary bachelor's degree from American University (AU), majoring in Communications, Legal Institutions, Economics, and Government (CLEG) with a minor in Spanish. While in Washington D.C., she was actively involved in many student organizations including Fossil-Free AU, Eco-Sense, AU Community Garden Club, WVAU Radio Station, and was the President of Phi Alpha Delta Pre-Law Fraternity.

Annie was born and raised in the north hills of Pittsburgh, volunteers with Tree Pittsburgh, and enjoys traveling and going to concerts.